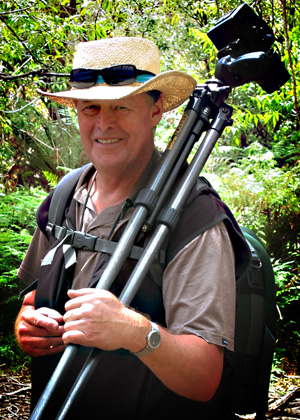 When did it all start?
Self taught, my journey with photography started some twenty five years ago, initially with a Kodak point and shoot, then moving on to taking Black & White landscape images with a 35mm Minolta, the next was a giant leap, advancing to my very favourite, a medium format Bronica Camera. I learned the skills of developing and printing Black & White film in my studio darkroom and went on to have many successful exhibitions throughout Gippsland.
I cannot help but feel that Black & White photography combined with the dark room process is the purest form of photography, working with and understanding the basic principals of the dark room has given me an incredible advantage as to how images should be composed and printed. I find myself adopting these principles with my relatively newfound digital imagery, which I sincerely hope you proceed to view here on this site.
Capturing the Light and the Moment.
It has always been my philosophy to wait for the very best light, either early in the morning sunrise, or late afternoon at sunset, adhering to these principles has seldom let me down. However there is yet a further axiom, "wait for the moment" I hope you will take the time to view these elements and notice, that "foamy white tip of a wave", a "beautiful white etching on the sand as a wave retreats", a "moment when the mist assembles and gives way to that magnificent ethereal light", not to forget those "storm clouded sky's", any of these "moments" and many more are all part of my plan to create an image that I hope people will be proud to give pride of wall space in their homes or offices.
Archival Materials
The selection of papers and inks is of paramount importance to me and as such I only use materials that are archival and as such have a high resistance to ultra violate light and general atmospheric conditions that present in most homes and offices. You can be rest assured if you decide to invest, or dare I say indulge in my form of art, that they will not fade or deteriorate, your children and or your children's children would someday inherit and hopefully enjoy a very tangible memento of your life's journey.
Exhibitions
In the past few years I have made a very conscious decision not to do commissions, sticking strictly to external exhibitions and now exhibitions here in my gallery, I have enjoyed and been privileged to exhibit at the following Galleries and Venues:
East Gippsland Art Gallery (several exhibitions) The Mud Brick Pavilion Mallacoota (several exhibitions), The Lakes Entrance information Centre Gallery, Mount Buller Art Gallery, The Stables Gallery, Bairnsdale, Nu-Art Gallery, Metung, Neilsons Gallery Restaurant, Traralgon, Café Doppolo Gallery Restaurant, Traralgon, The Court House Gallery, Yarram, The Court House Gallery Stratford, Bridges Gallery Restaurant Hurstbridge.